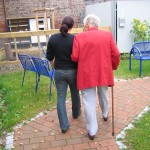 Is Mom or Day falling and more confused all of a sudden?  Home help may be the answer.  When our parents need help remaining independent, it can be challenging to know what to do.  After all, now the roles are reversed between parent and child and making these decisions can be difficult.  Most families want to keep their loved ones at home as long as possible for a number of reasons.  This desire has given rise to an entire industry – the in-home care services industry.
Home Care, Home Health Care, Hospice and Home Medical Equipment are various types of companies that provide help in the home.   All of these services, except Home Care are Medicare-reimbursed services and therefore, limited by diagnosis and require physician orders.  These companies all sound similar; however, each one provides completely different services.
Home Care is a broad term covering mostly non-medical in-home care of the elderly and disabled and does not require medical authorization.  Home care, sometimes called "sitter services", is companion care that aims to help people with bathing, basic hygiene, light housekeeping and other daily living activities.  In contrast, Home Health is medical care in the home and is usually skilled in nature; that is, a nurse, therapist, or some other medical professional comes to the home to provide services for a specified period of time.
Hospice care is end-of-life care designed to provide comfort and support to patients and their families when their illness no longer responds to cure-oriented treatments. Hospice care neither prolongs life nor hastens death.  The emphasis is on controlling pain and symptoms and providing emotional and spiritual support to the patient and family.
Home Medical Equipment companies supply medically necessary durable medical equipment (DME) for use in the home.  DME must meet certain criteria to be reimbursed through Medicare.
Large numbers of people benefit from home help during periods of decline, whether it is the medical or non-medical type.  If your loved one is falling or seems to be declining it is important to seek help immediately from local resources.  In Columbus GA there are a number of good Home Health Care Agencies, Hospice providers.
Home help services are a great option for many families; however, there are alternatives such as Assisted Living Facilities, Personal Care Homes, and Adult Day Care that are far better than the dreaded Nursing Home.