Every life is made better by loving kindness!
If you need help caring for a loved one with memory loss or other age-related or physical challenges, then Freedom Day Center can help you today.
We help families care for parents, spouses, siblings, children, and friends by providing a safe, comfortable place for them to belong and experience loving-kindness.
Our clients sing, dance, laugh, work, play, compete, create, eat, share, learn, care, and fellowship with us and each other in a family environment. Our focus is to engage our clients through activities.
Our desire is that every family in our community, with a loved one suffering with memory loss or age-related disabilities, has an affordable care solution.  Adult Day Care is one of the most affordable options today for senior care, so come by our centrally-located facility today for a tour.
Family Caregivers are Overworked
Elder Care has become the top challenge in our society today, as it replaces child care as the number one issue for men and women in today's work force. The stress and physical demands of caring for a loved one with mental or physical limitations, such as Alzheimer's disease or stroke, can be overwhelming for family caregivers. We urge family caregivers to seek community help, even if it's not Adult Day Care, in order to relieve the stresses that come with being a full time caregiver.
What is Freedom Day Center?
Freedom Day Center is an adult day health care facility, specializing in daily care options for working families. We seek to promote wellness through social, physical, and medical support of the elderly and physically dependent. We create a stimulating and safe atmosphere for people to belong while participating in group and individual activities. Our programs are developed with input from our clients, family members and staff to insure our clients' needs are being met and that their interests and abilities are considered. This affordable care solution helps many people stay in the community longer and out of institutions.
What is Adult Day Care?
Adult Day Care centers are designed to provide care and companionship for seniors who need assistance or supervision during the day. The program offers relief to family members or caregivers and allows them the freedom to go to work, handle personal business or just relax while knowing their relative is well cared for and safe.
Much like child day care, adult day care can be a very affordable option for many families. With senior care costs sky-rocketing, many families are looking for options and Freedom Day Center can help.
To schedule a tour of our spacious Adult Day Center, please contact us at 706-221-0158.
Have a Question
Our passion is to help families navigate the complexities of caring for disabled or elderly loved ones.  Please contact us, we can help direct you to local resources even if you don't choose our facility.  Additionally, read what others have wanted to know on our Frequently Asked Questions page.
Give Yourself a Break
Respite and Rejuvenation – Time for yourself, your career, and your family can make all the difference in the world.  Most times the stress of 24 hour care-giving can be reduced by some time alone.  Friendships and social interaction are healthy for your loved one as well.  Get help soon, it's important for your own health.
Staying Connected
Everyone wants to feel important and belong. Having somewhere to go on a daily or weekly basis can help restore that sense of importance and belonging.  Getting together with friends to enjoy some good food and conversation can give life to an otherwise bleak existence.  
Testimonials
There is nothing like a feeling of security and safety to know that my precious mother is safe in Freedom's hands.  My mother is my world and the staff of Freedom Day Center is truly a blessing for me and my mother.
E. Woodson, Columbus GA
View Other Testimonials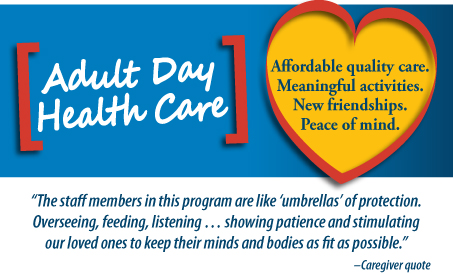 Why Choose Freedom?
Professional
We hold ourselves to the highest ethical and medical standards.
Affordable
When you have to be at work all day, forty hours of senior care adds up.  Adult Day Care is the the most economical option available.
Focused on Activities
We follow a medical model of adult day care; however, we know that people need to be engaged and active.